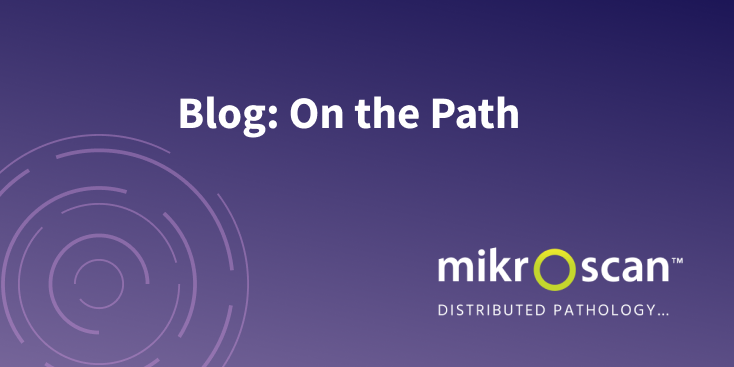 The benefits of digital pathology* are well-known: It saves time, reduces expenses, and improves care.
Yet many who desire the technology have hesitation stemming from 3 pervasive and outdated beliefs.
Read on to find the truth about this beneficial technology.
3 Myths About Digital Pathology
Myth #1. It's expensive
This myth stems from the common perception that digital pathology requires a high-throughput whole-slide scanning system. And in truth, high-throughput digital pathology systems are indeed expensive. They not only cost hundreds of thousands of dollars, but they require extensive infrastructure. More desks, or even an entire room, may be needed to house the large systems, along with dedicated staff to manage loading, scanning, and troubleshooting. Fortunately, a high-throughput system isn't necessary to perform digital pathology.
Fact:

Digital pathology can be so affordable it pays for itself within months
Low-to-medium throughput whole-slide scanners are a fraction of the cost of high-throughput systems (you can purchase several for the price of one high-capacity system), and are simple and intuitive, so dedicated personnel and time spent troubleshooting are unnecessary. A compact, low-throughput system can also fit on any bench, in any room, even on a mobile cart, so there is no need to buy more desks or dedicate more space for them. And because the vast majority of hospitals do not need to scan every slide, a 2 to 20-slide scanner better fits their needs than a 400-slide scanner.
The increased revenue and patient throughput that results from the use of digital pathology pays for a lower capacity system within just a few months.
Myth #2. You have to scan every slide
When digital pathology came to market more than 20 years ago, it was thought to be prudent to scan every slide in an organization. Wouldn't scanning more slides lead to more efficiency and cost savings? As it turns out, no.
Fact: Phased adoption (scan only what you need) vs. full adoption is practical and cost-effective
In reality, a significant percentage of slides are normal and don't need to be scanned. In most real-life workflows, scanning is only employed for interesting or difficult cases that require secondary opinions from remote subspecialists. Many clinical organizations that have invested in high-cost, high-volume WSI systems have found their typical use case fails to fully utilize the purchased capacity of these systems, resulting in wasted expense. Several organizations we surveyed reported that even 3 years after adoption, their scanning volumes remain steady at <3% of their total slide production.
For most clinical applications, a phased approach to digital pathology is the most practical, as many labs in both AMCs and community hospitals have discovered. Using a low-throughput system, you can scan only the slides you need for the most common clinical applications, such as consultations, tumor boards, medical education, and archival for easy retrieval. In addition, live telemicroscopy, which is the remote review of the actual glass slide using a robotic microscope, can be the very first step in phased adoption, and doesn't require scanning at all.
Myth #3. It can't be used for primary diagnosis
It is true that, from a regulatory perspective, any technology that renders an image of a glass slide, i.e., digitizes the original image, can largely only be used in research settings. But you don't have to scan a slide to get many of the benefits of digital pathology.
Fact: Telemicroscopy (a part of phased adoption) is used for primary sign-out and diagnosis
When performed with a Class I device, live telemicroscopy that uses a truly live feed of the original glass slide can be used in clinical applications such as remote on-site evaluation of adequacy (ROSE) in cytology applications, frozen sections, tumor board sharing, MOHS procedures, and remote examinations. Because live telemicroscopy delivers the versatility of the traditional microscope, it is also perfect for difficult or challenging samples.
Live telemicroscopy and low-to-medium-capacity whole-slide scanners allow you to start with the basics, and build as your needs grow. A dual-mode system that offers both live and scanning capabilities allows you to perform both technologies, in one device, for maximum flexibility.
*For Research Use Only. Not for use in diagnostic procedures.